work-in-progress UDHR Quilt block - by Ashley Catharine Smith
The UDHR Quilt project is now well underway, you can follow the 120+ artists as they create their UDHR blocks by searching for the hashtags: #UDHRquilt #UDHRquiltproject & #UDHRquilts on Instagram, 
Facebook and Twitter. 
There are also some work in progress images at the end of this page :) 
CONTACT US: udhrquilts@gmail.com 
The UDHR Quilt Project is a global collaborative craftivism project that looks to celebrate the Universal Declaration of Human Rights (UDHR) through the creation of a quilted wall hanging embroidered with all thirty articles of the UDHR. This project also aims to raise awareness about the numerous ways that the UDHR is currently being violated and to raise much needed funds and awareness for the UN Refugee Agency UNHCR.
Originally, project coordinators Stephanie Dunlap (Phoenix, USA) and Tal Fitzpatrick (Melbourne, Australia) were hoping to find up to 30 embroidery artists willing to volunteer their time to collaborate on this project. The idea being that each artist would embroider one article out of the thirty UDHR articles and that these 'blocks' would then be used to create one large quilted wall hanging. However, the response to the artist callout (shared solely via Instagram and Facebook) was so significant that within the space of a week enough artists had volunteered that we decided to make four UDHR quilts instead of just one!  
As part of this project each article of the UDHR was embroidered four times in order to make the 120 blocks needed to make the four UDHR quilts. Artists were invited to stitch their UDHR article in their own language/s and to use their block to shed light on a current human rights issue or to celebrate the achievements of those who have fought for equality and human rights around the globe.
In total there are 130 contributing artists working on this project. Some are first time embroiders, some are hobbyists, while others are trained professionals. The artists live in over 21 different countries, represent 45 different nationalities and are aged between 17 and 62 years old. While the majority of our artists identify as cisgender females several artists identify as queer, lesbian, non-binary and genderqueer, including one queer male artist. In an effort to be more inclusive of our diverse community of makers, and of the diversity in our modern world, we chose to update the UDHR slightly by changing all the pronouns in the UDHR document to be gender neutral. 
The artists were given three months to work on their block. Currently, Tal Fitzpatrick is waiting for them all to arrive via the post at her studio in Melbourne, Australia. Once the all arrive Tal will host several quilting bees during which she and other local makers will work to create four large appliqué quilted wall hangings using the 120 UDHR blocks (they finished quilts will be approximately 2m x 2m each). In the meantime, Stephanie Dunlap will be working to collate a four-part book that will feature every artist involved in the project along with their UDHR quilt blocks and tell the stories behind each of the 120 UDHR quilt blocks.
Once the quilts and the books are finished we will then send the quilts on a world tour so that they can be be exhibited in as many different communities, galleries, libraries, museums etc. around the globe as possible. During this time, we hope to find four different public institutions/galleries/museums that would be interested in accepting one of the quilts into their permanent collection so that these works will be preserved and made available to the public for many generations to come.
All profits made from the sales of the books, as well as from the sales of postcards, posters and prints related to this project will be donated directly to UNHCR on behalf of the 120+ artists who donated their time and skills to be involved in this project.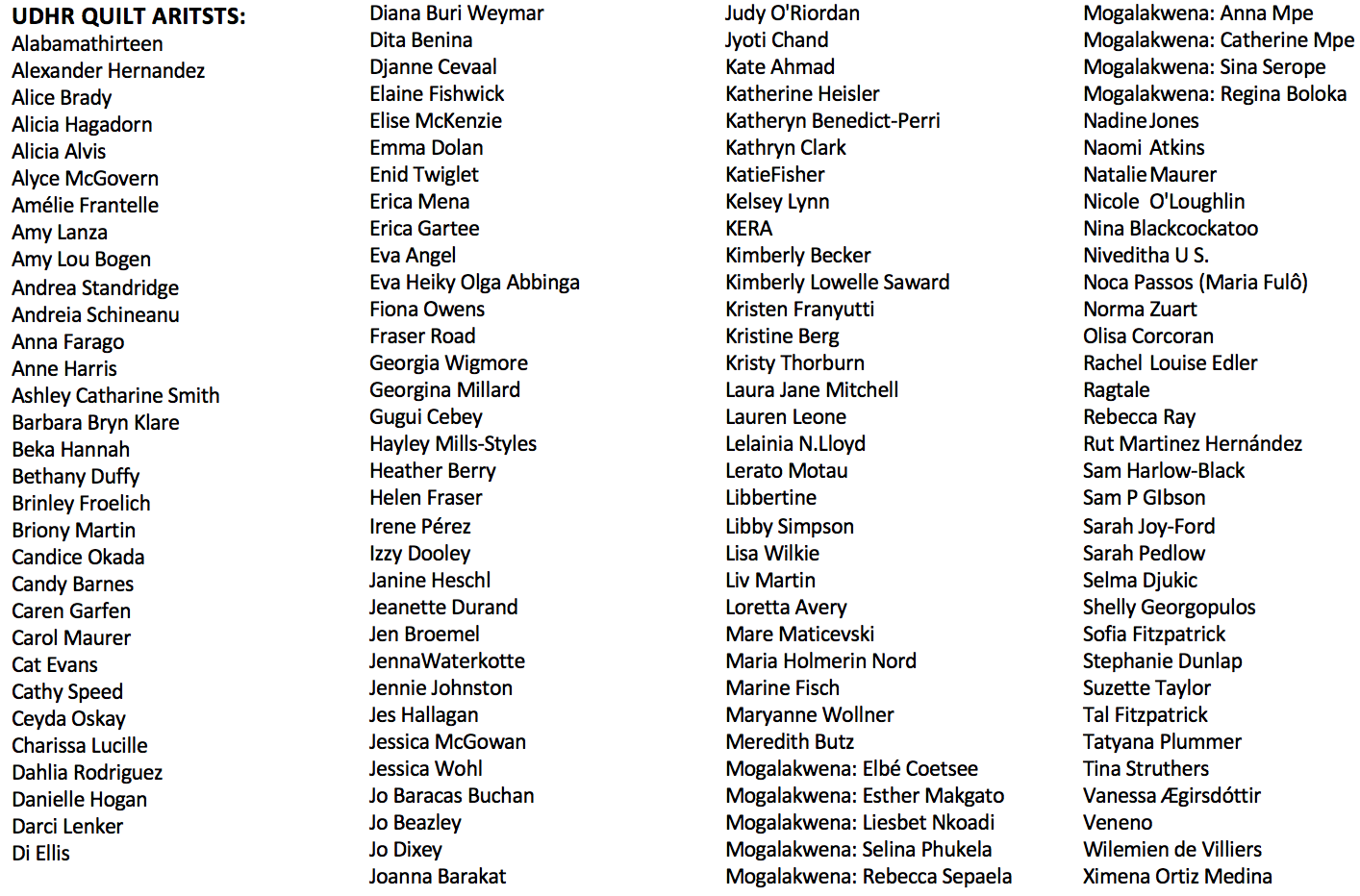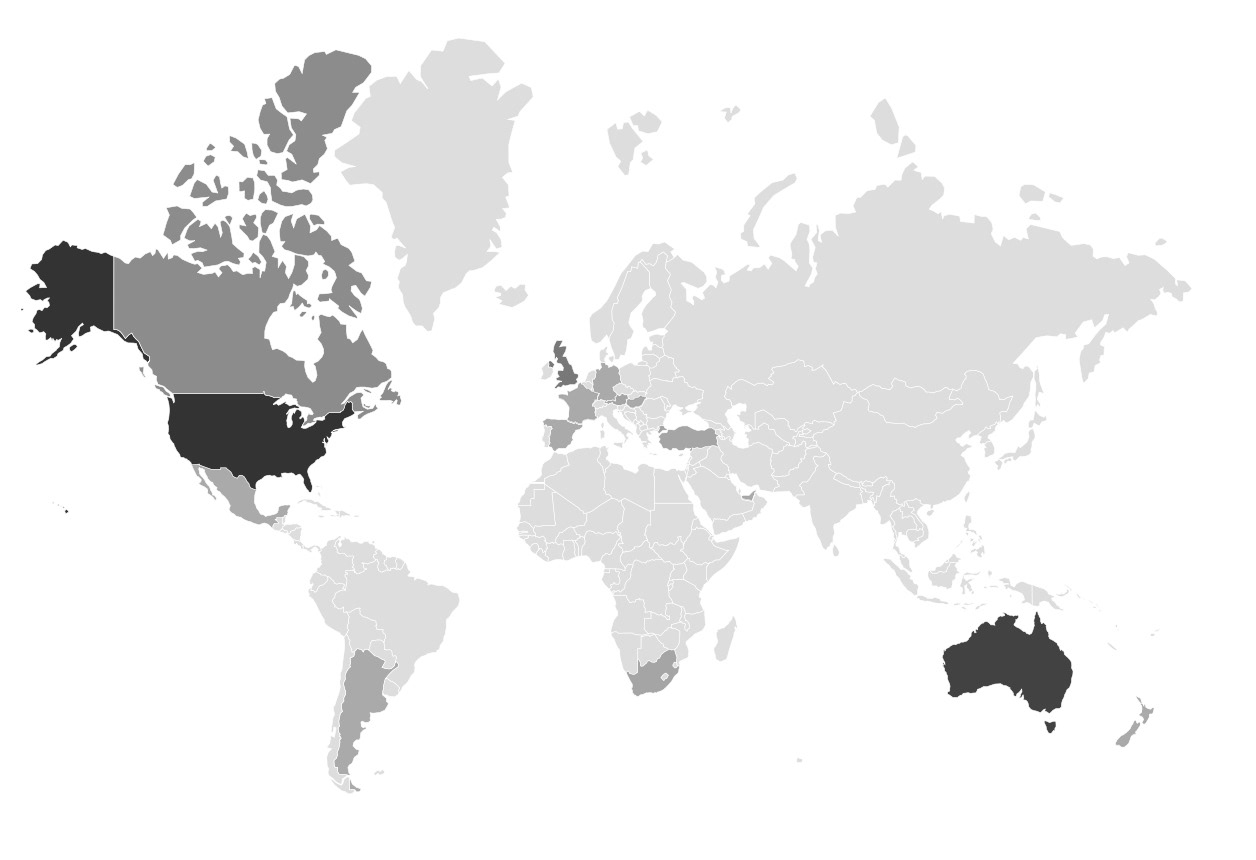 Map showing the countries where UDHR project participants are from.
The artists involved in this project are spread across the globe and represent many different cultures and nationalities, including: Argentina, Australia, Austria, Bosnia , Brazil (including descendent of First Nations Peoples), Canada (including descendent of First Nations Peoples - Ojibwe), Catalan, Chile, Colombia, Cuba, Dutch/Netherlands, England, Estonia, Finland, France, Germany, Hungry, Ireland (and northern Ireland), Israel, India, Italy, Japan, Latvia, Macedonia, Mexica, New Zealand (including descendent of First Nations Peoples - Pākehā), Norway, Palestine, Poland, Prussia, Puerto Rico, Romania, Russia, Scotland, South Africa, Spain, Sweden, Switzerland, Taiwan, Turkey, Ukraine, United Arab Emirates, United States of America, Venezuela, Wales. 
The Universal Declaration of Human Rights
(UDHR) is a milestone document in the history of human rights. Drafted by representatives with different legal and cultural backgrounds from all regions of the world, the Declaration was proclaimed by the United Nations General Assembly in Paris on 10 December 1948 (
General Assembly resolution 217 A
) as a common standard of achievements for all peoples and all nations. It sets out, for the first time, fundamental human rights to be universally protected and it has been translated into over 500 languages.
Stephanie Dunlap
(@illuminatembroidery) is a multidisciplinary artist, student, and activist from Phoenix, Arizona who creates under the moniker illuminate. They work individually and communally to create accessible art that engages with the global community on an individual level. While varied, their larger body of work delves into themes of pattern recognition, intersectionality, and self-efficacy as a way of understanding and emphasizing an individual's vital role in our global community.
Tal Fitzpatrick
(@talfitzpatrick) is a PhD candidate with the Centre for Cultural Partnerships at the Victorian College of Arts, University of Melbourne, Australia. She is an artist, craftivist and community development worker. Her participatory approach to the practice of Appliqué quilting is driven by her fascination with the power of craft to solicit the sharing of stories and ideas. In her creative practice as well as in her practice-based research Tal looks to unpack how we might drive social and political change by using art as a way to engage diverse groups of people in complex conversations. As part of her creative process Tal engages with the public as well as with community groups and charity organisations on projects that explore issues such as women's rights, disaster resilience and the everyday practice of democracy.