The @covid19quilt project is a global craft project instigated by Naarm/Melbourne based artist Kate Just (@katejustknits) and Gold Coast artist Tal Fitzpatrick (@talfitzpatrick). 
Designed to share Covid-19 experiences of isolation, community and care this project was launched on 5 April 2020 and it will continue to grow until this global pandemic is declared over and restrictions enforcing social distancing and self-isolation are lifted. 
The @covid19quilt project was awarded the People's Choice Award at the 2020 Incinerator Art Award: Art for Social Change and it is currently being exhibited at the Museum of Contemporary Art in Sydney as part of The National 2021: New Australian Art.  
As of June 4, 2021, the project has received over 529 submissions from makers from over 28 countries around the globe including: Australia, United Kingdom (England, Scotland, Wales), United States, New Zealand, Germany, Canada, Brazil, Ecuador, Estonia, Spain, Greece, Austria, India, Indonesia, Mexico, Japan, China, Croatia, Romania, France, Georgia, Netherlands, Malaysia, Denmark, Switzerland, Vietnam, South Africa and the United Arab Emirates.
The contributions to the @covid19quilt reflect a beautiful engagement with textile processes that address the diverse range of issues people around the world are facing. Using cross stitch, knitting, quilting, embroidery and hand sewing, contributors to this project - through their work - address many themes and ideas. These include: privilege and power in relation to Covid-19, self-nurturing and imagination as tools of resilience, the role of craft in renewing our sense of tangible material connection, the issue of Covid-19 motivated racism, the reality that the challenges that people living with mental health or trauma face are further compounded by isolation; and the importance of myth and imagination to our survival.
To be a part of this project, artists and makers are invited to contribute (via direct message on Instagram) a square image of a textile piece they created during the pandemic, alongside a text share the stories behind these works and how they relate to their experience during Covid-19. The @covid19quilt takes form as these contributions are collected and shared via the @covid19quilt Instagram account. The accruing squares of the Instagram feed become the quilt.
Learn more about the @Covid19quilt
Below is a presentation that Kate Just and Tal Fitzpatrick had as part of the Melbourne Sustainable Society Institute 2020 webinar series, this conversation was hosted by Hayley Singer and Ruth DeSouza gave a response to the project. 
To date the project has been featured in multiple articles, publications, 

presentations

 and podcast episodes, a selection of which are listed below: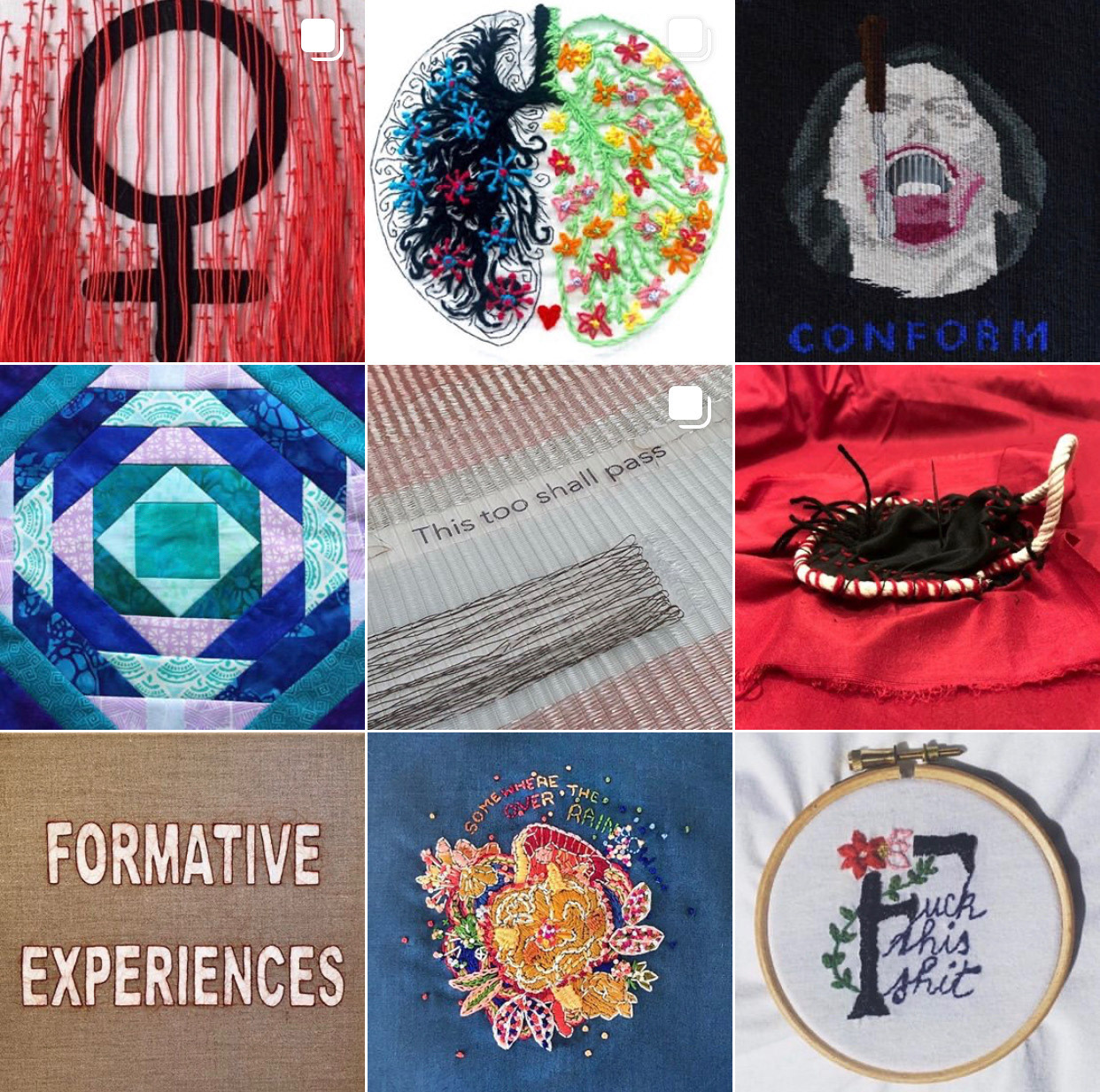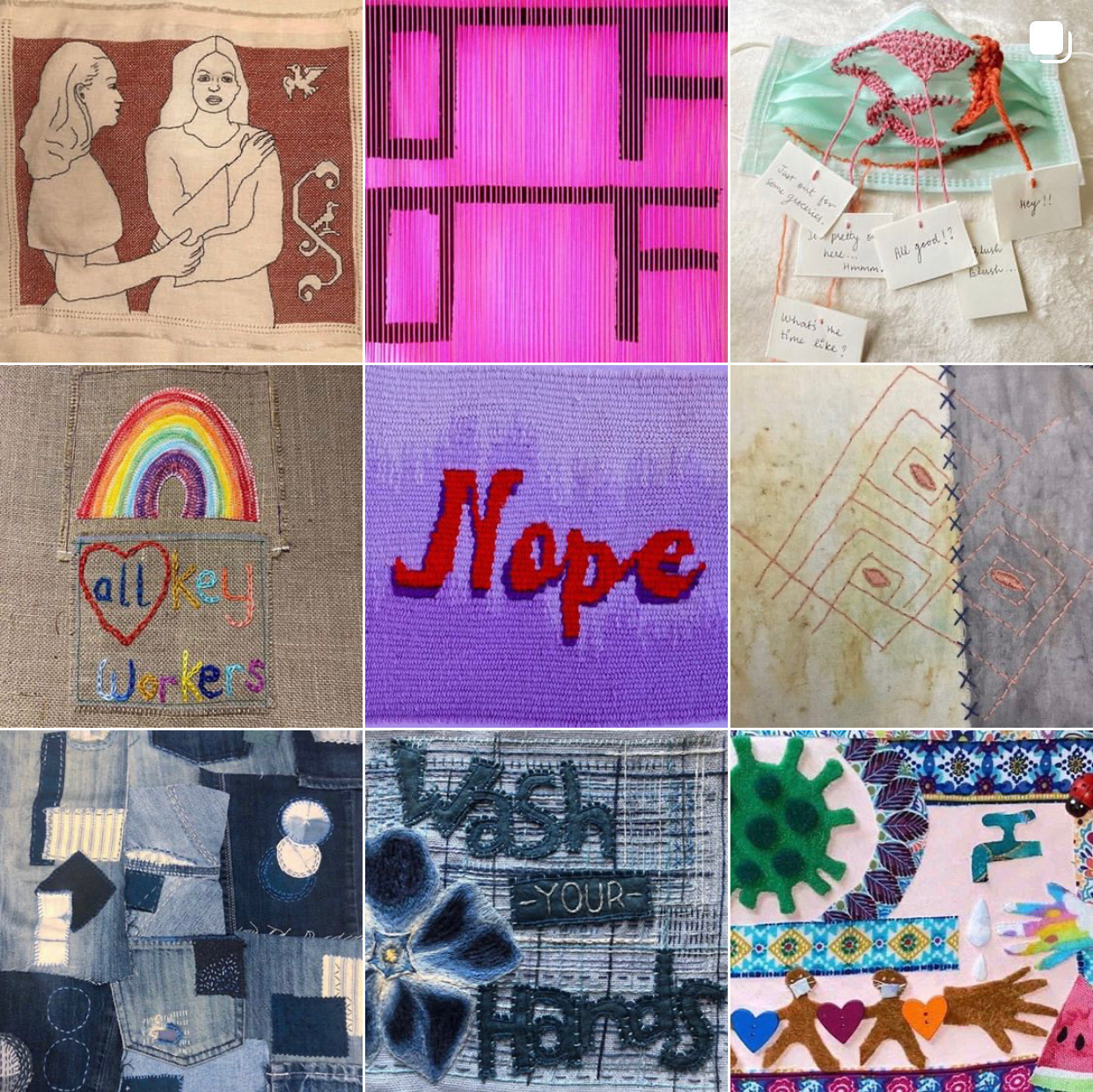 Kate Just and Tal Fitzpatrick stand in front of a screen featuring the @Covid19quilt project at the Museum of Contemporary Art, Sydney (April 2021) 
The @covid19quilt builds on the previous work of Melbourne based artists Dr. Kate Just and Dr. Tal Fitzpatrick, who both specialise in delivering participatory/socially-engaged textile projects that engage with complex social and political issues, while also empowering individuals and building community through a combination of hand-making and digital engagement. 
Inclusion and accessibility are a central values of this project and in reflection of this the call-out for contributions to this project has already been translated into several languages including: Auslan, Farsi/Persian, French, German, Greek, Italian, Japanese, Malay, Mandarin, Norwegian, Portuguese, Spanish and Hebrew. Furthermore, if someone hears about the project and wants to participate but doesn't have an Instagram account, people are welcome to submit on their behalf.
Other than the digital quilt itself, one of the key outcomes of this project will be the publication of a book that will feature images of the individual and collective squares of the quilt, the maker's own statements about their work and experience of Covid-19, and reflective critical essays by at least four writers who are experts in the field of art, craft, and society/social change. The book is expected to act as a time capsule of Covid-19 and be a testament to the power of craft and community to record diverse experiences of the pandemic.
Kate Just and Tal Fitzpatrick standing by the installation of the @Covid19quilt project at the Museum of Contemporary Art, Sydney (April 2021) 
Detail of the vitrine featuring a selection of works submitted to the @Covid19quilt featuring the @Covid19quilt project on display at the Museum of Contemporary Art, Sydney (April 2021)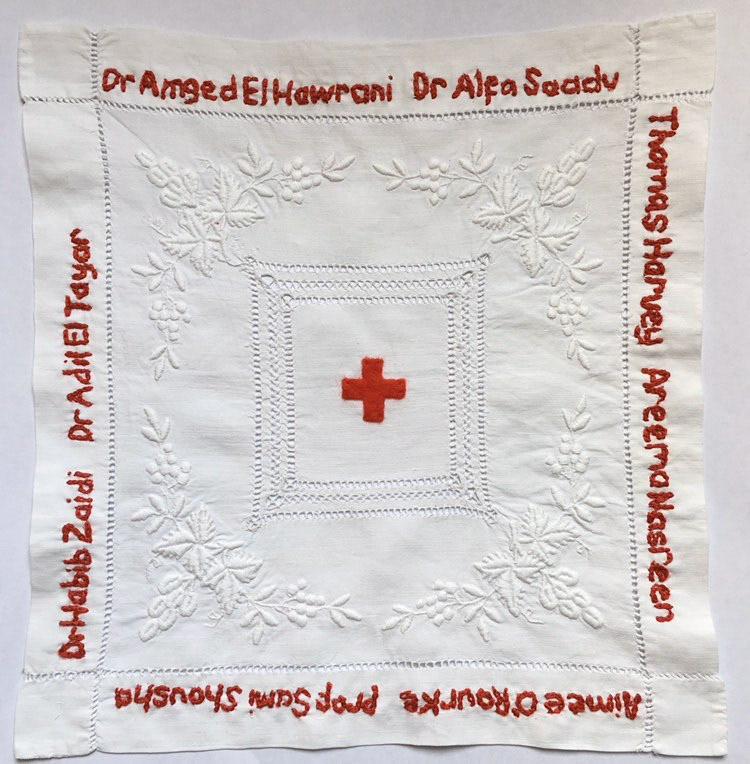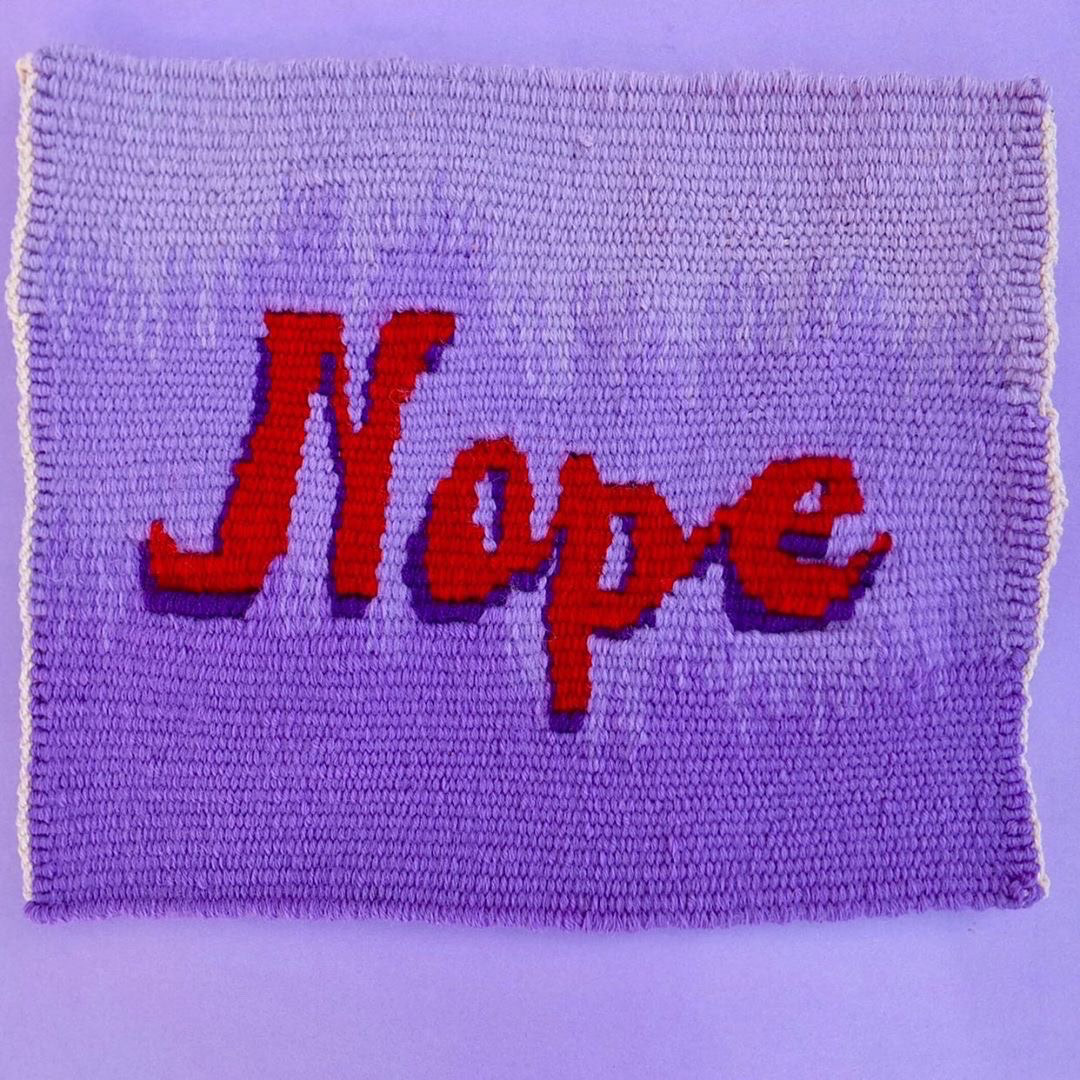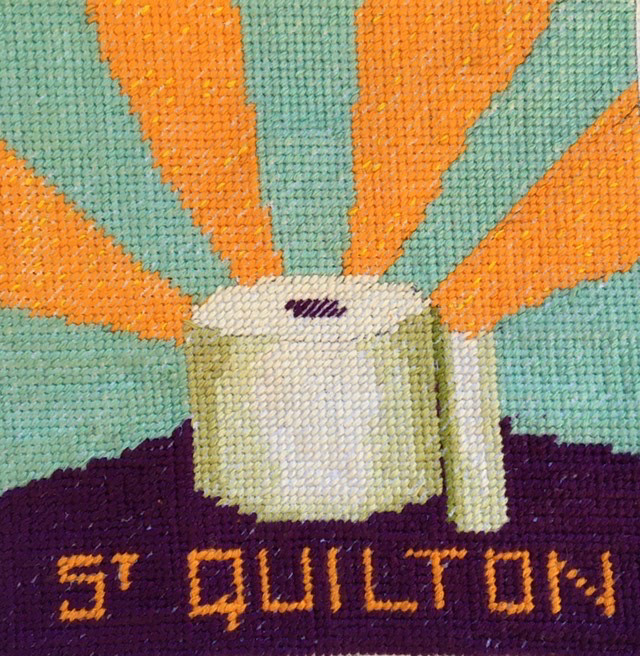 Dr. Kate Just discusses the @covid19quilt  
At this moment in history, people all around the world are confined to their homes; and many are living alone. Our work lives, relationships, health, sense of safety and connection to friends, family and community are significantly impacted. We are learning to see touching (others, objects in the world) as a danger to our health and the health of others. For many, this is creating a sense of loss and grief.
In the face of the oppressive reality of Covid-19, this project recognises that creative expression can provide individuals with an important avenue for empowerment and emancipation; Asserting that we can reclaim our connection to each other by continuing to make things with our hands and by sharing stories that highlight our shared humanity.​​​​​​​
Already, the strong response to this project demonstrates that online spaces such as Instagram have become vital sites for connection and community building. Providing a lifeline for individuals who are in unsafe situations, are completely alone or have a history of trauma.
As the @covid19quilt project is a global participatory art project, it is important to clarify that lead artists Kate Just and Tal Fitzpatrick have committed to not benefitting financially from the project. As the artists who conceptualised and curatorially manage this project, we claim ownership over the intellectual property and copyright of the project as a whole. However, each participating artist retains full ownership and authorship of the work they contributed to this project.
Any profits such as grant or award money will only ever be used to sustain specific project expenses (including writers fees, administrative fees, and a future book publication). Any remaining money or awards will go towards global charities that support vulnerable communities with the challenges exacerbated by the Covid-19 pandemic. These include the World Health Organisation, UNHCR's Covid-19 Emergency Appeal, UNICEF's Covid-19 Emergency Appeal and Humanity & Inclusion's Covid-19 Emergency Response Appeal.