Six Moments in Kingston was delivered in Melbourne in May of 2019. This unique public art project was the biggest public art project ever undertaken by the City of Kingston, responding to six unique moments in its history. 
Curated by David Cross and Cameron Bishop this public art project included the work of artists Laresa Kosloff, Shane McGrath, Spiros Panigirakis, Steven Rhall, Field Theory and Tal Fitzpatrick. 
These six contemporary artists working across performance, music, craft, installation and video, were commissioned to create public works that responded to: the election of Moorabbin's first female councillor in 1976; The disappearance of aviator Fred Valentich who flew out from Moorabbin airport in 1978: A celebration of globally successful Parkdale-raised rocker Rick Springfield, who received a Grammy for his song Jessie's Girl; VFL player Phil Carman's notorious head-butting incident at Moorabbin Oval, which resulted in a 20-week suspension; The story of The Grange, a homestead built on the Nepean Highway in the late 1800s, controversially demolished in 1983 and replaced with the Moorabbin Police Station; And the protest movements that mobilised Moorabbin, including the tent protest against homelessness by two teenage girls, protests for fair wages and anti-nuclear armament marches.
Through workshops, site visits and historical talks, community members worked with artists to develop and deliver a creative response to each story. The works were presented via a public art bus tour across two weekends in May; featuring voice-over stories told by legendary Australian actor Michael Caton, the tour took passengers on a 2-hour experience that stopped at six locations where each historical moment originally occurred.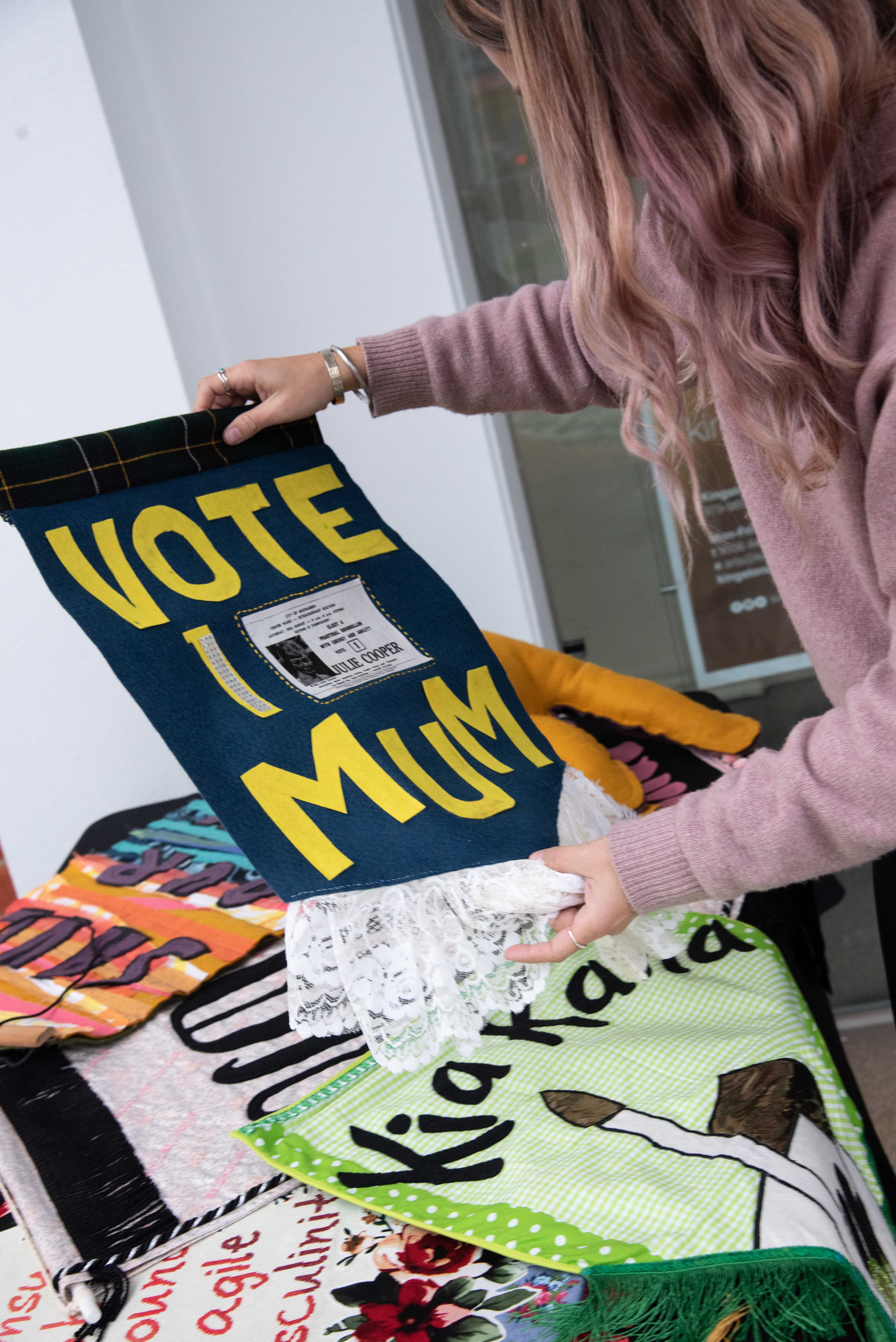 Craftivist Banner Project 
Tal Fitzpatrick's craftivist banner project was created in response an historic moment in Kingston history: the 

1976 

election of Julie Cooper, who was the first woman to serve as a councillor and then as Mayor in the municipality of 

Moorabbin.
Taking inspiration from Julie Cooper's story while also paying homage to all those who campaigned for women's suffrage and equal rights, the idea behind this project was to create an opportunity for the passengers of the Six Moments in Kingston art bus tour to become activists themselves – if only for a moment.
To achieve this, Tal Fitzpatrick invited local makers to create a collection of craftivist banners to be used during the final moment of the bus tour – a march to the steps of the Kingston City Hall (now Kingston Arts Centre) where Julie Cooper once worked. 
The creation of these banners was facilitated through a series of three workshops, hosted by local craft/art groups in Kingston, including: Long Beach Place in partnership with Urban Yarn Art, Kingston Creative Studios and Le Studio Art Space. More than 40 makers attended these workshops. The vast majority of the makers were women with a passion for arts and crafts, although for some these workshops were an entirely novel experience. 
Prior to the Six Moments in Kingston event a morning tea was held for the makers at Shirley Burke Theatre. As part of this event the stories behind each banner were recorded and then the banners were 
loaned to Kingston Arts for use during Six Moments in Kingston.  
The makers who participated in this project worked voluntarily to create this unique collection of craftivist banners. Each maker got to choose what they wanted their banner to be about and as a result these banners address a diverse range of social, political and environmental issues. Some of the makers decided to create banners that are timeless in nature, while others created work in direct response to recent events, such as the Christchurch mosque shooting which occurred just prior to the banner making workshops. 
In order to give the passengers of the Six Moments in Kingston tour a similar experience of agency, they were given the opportunity to rummage through and select whichever banner they wanted to march with (if any at all). As a result, those who chose to participate in the march and carry a banner were honestly displaying their solidarity for specific cause. 
Serendipitously, the first weekend of Six Moments in Kingston aligned with the 2019 federal election. A factor which heightened the experience and response of the passengers to this specific part of the art bus tour experience. Indeed, the day following the election many of the passengers (who were clearly disappointed with the outcome of the election) shared that marching together and carrying these carefully crafted banners helped to reinvigorate their commitment to making positive change while also helping them feel less alone.  
As the documentation from Six Moments in Kingston illustrates, thanks to the colourful presence of the craftivist banners, each of the 17 busloads were transformed into processions unique in size, energy and composition. Each of these marches functioned as a public display of solidarity and support for the myriad of important issues which the banners address. 
To those who encountered these marches as they went about their everyday lives (and to those lining up to get on the next bus tour) these marches were as 'real' as any public protest. Interestingly, the implication of this was that for some passengers taking part in these marches was their first experience of protesting. Other passengers were clearly more experienced activists, and many of these passengers were overheard sharing stories about other protests they had attended over the decades.  
Tal Fitzpatrick's craftivist banner making project, delivered as part of Six Moments in Kingston, was celebrated in an exhibition at the Kingston G1+G2 gallery from the 22 August - 14 September 2019. 
Curated by craftivist Tal Fitzpatrick, this exhibition showcases the diverse collection of textile protest banners and video documentation created by local participants and community organisations during Six Moments in Kingston.
Taking inspiration from the story of Julie Cooper, the first woman elected to local council in 1976 and first female mayor of Moorabbin in 1982; the banners commemorate the legacy of women's suffrage and the struggles for equal rights endured into the present day.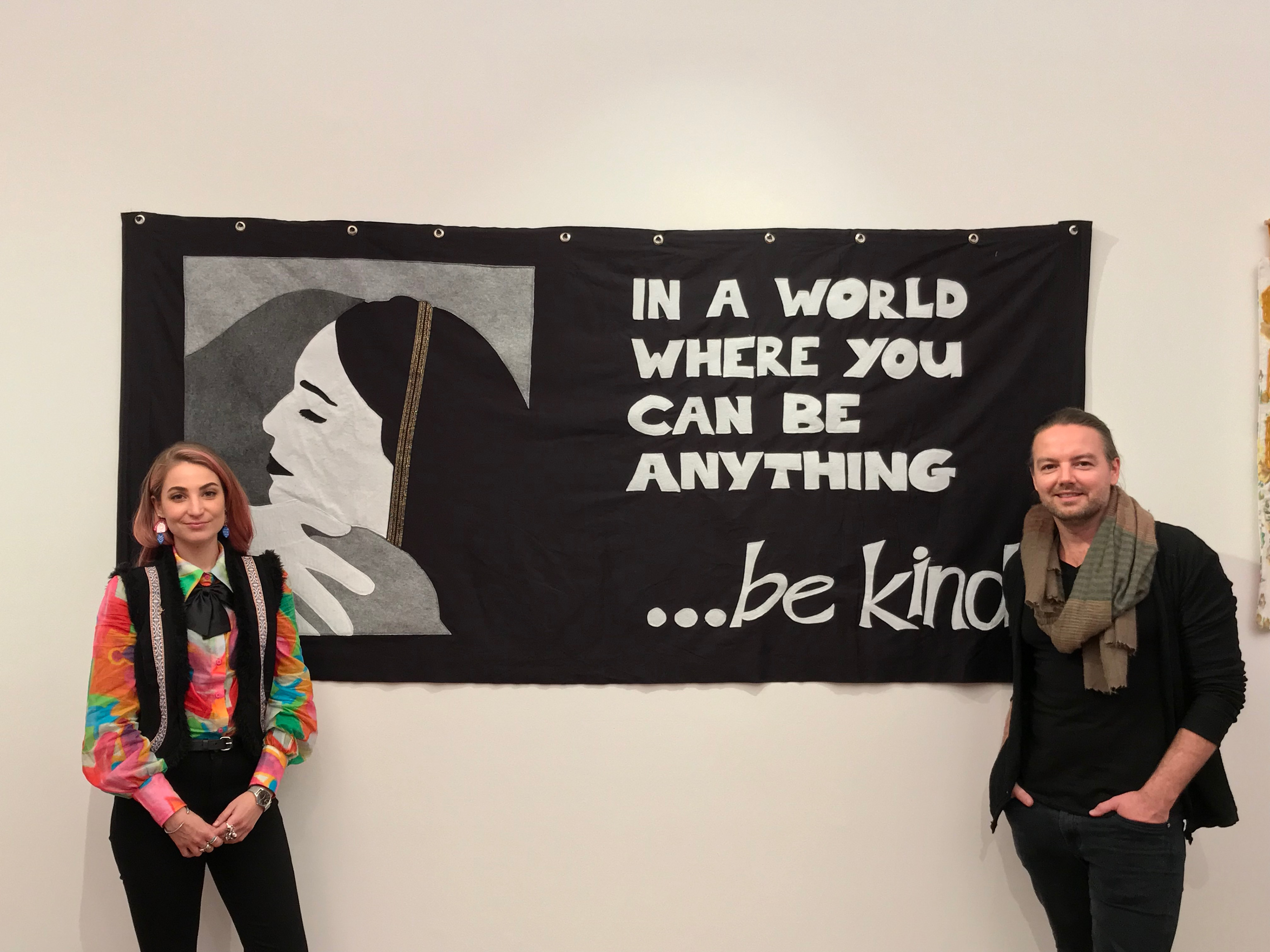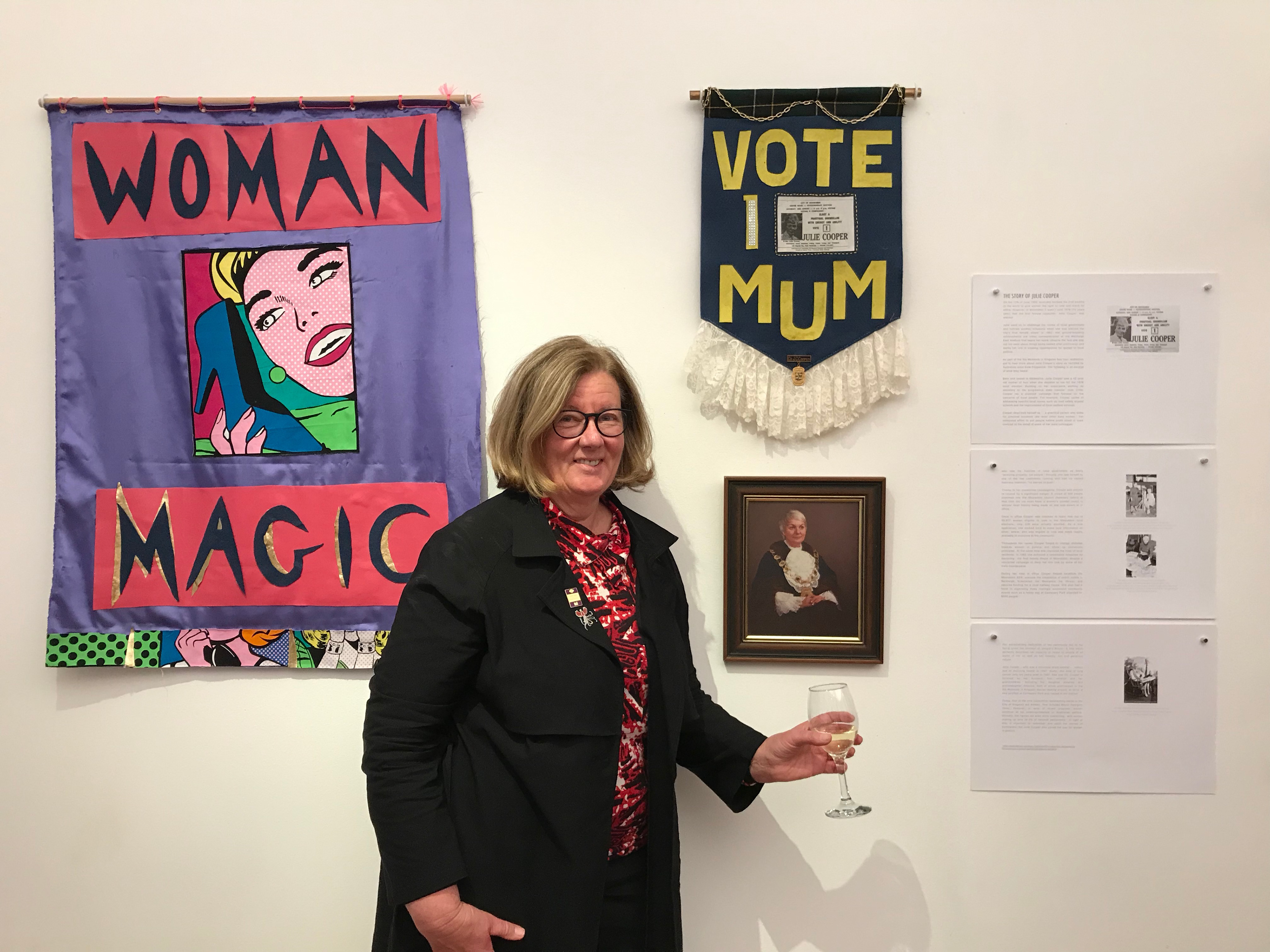 The Story of Julie Cooper